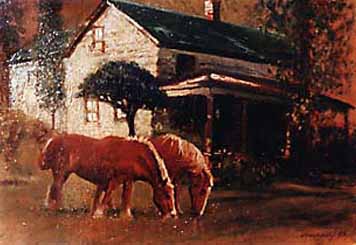 Evening Light-Oil on Board
One of Thomas' favorite activities is to just wander down country roads and see what he can find. This scene is a result of one of those little journeys.
All fine art prints are Giclée on canvas and are offered as limited editions, numbered and signed by the artist. Prints can be ordered for shipping (rolled and in a tube) or stretched and framed in the same frame selected by the artist for the original. Print numbers are assigned when order is received.
©2008 Thomas L. Kennedy, all rights reserved, duplication or use of the
images on this site without written permission is a violation of US copyright laws
812-393-9135 or 812-853-2911 E-mail: kennedyart@aol.com